This is a complete inverter circuit project which features automatic mains switching, automatic charging when mains is present, and automatically starts inverter when mains is off.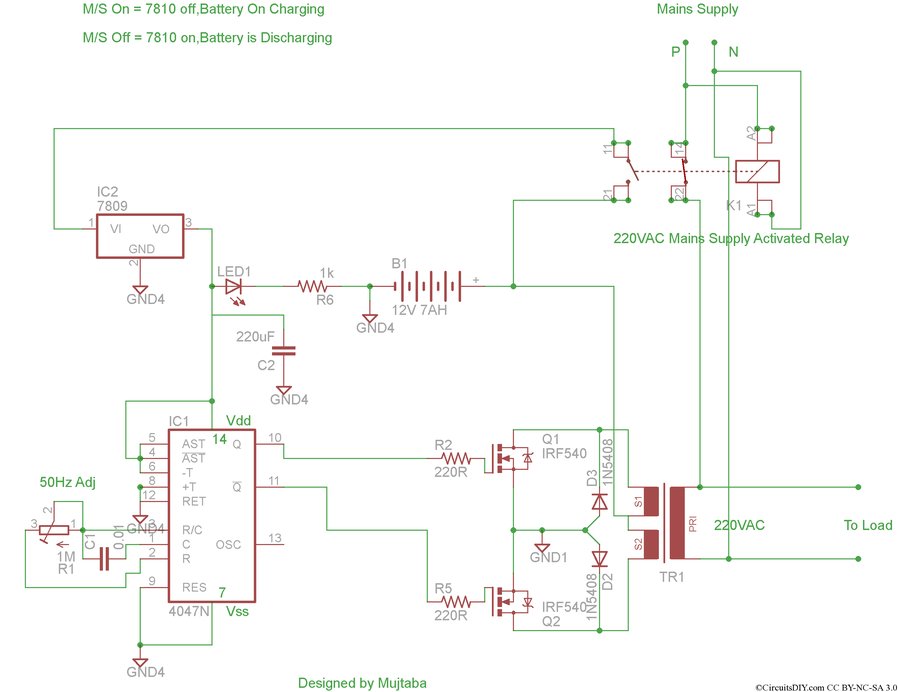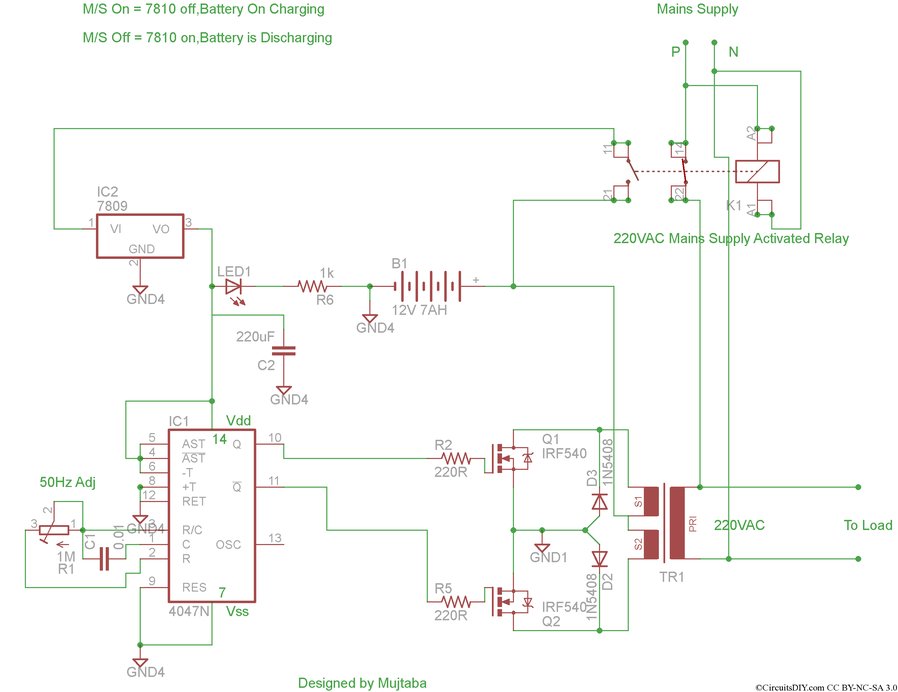 Get the full size inverter circuit diagram pdf from HERE.
As this project is fairly long and time consuming, so we've divided it part by part, find out the steps below.
Steps of Inverter circuit project
For the oscillator part, you have three choice. You can use either a 4047 based square wave oscillator, or the SG3524 PWM oscillator or the 74LS112 based Oscillator.
Square wave inverters are sufficient to run mobile chargers, CFLs or LED lights. However if you're planning to run inductive loads like a Fan or AC motor, then choose the SG3524 based PWM oscillator or the simple modified sine wave inverter.
Below the steps to make the complete inverter project.
Also have a look at this simple yet powerful 250 watt inverter project.
Comments on this article before 07-12-2011, here jump to recent comments.
vijay on September 24, 2011 - 3:24 amSir,
Thank you for your valuable guide.
Sir, I want to build solar inverter for driving A.C. load of 200watt for 5 hours. Also I want to charge battery by solar as well as A.c. 230 volts But preference to solar . Since in Maharashtra now tariff rate is very high. Also load shading problems.

Matt on October 21, 2011 - 8:04 am

Matt on October 22, 2011 - 5:38 am

Matt on October 23, 2011 - 7:32 am

Matt on October 26, 2011 - 4:48 pm

Matt on October 27, 2011 - 2:38 pm

Matt on November 1, 2011 - 11:57 am

Matt on November 11, 2011 - 8:48 pm

Matt on November 15, 2011 - 4:55 pm

Mujtaba Ali on November 15, 2011 - 6:04 pm

Mujtaba Ali on November 15, 2011 - 6:06 pm

Mujtaba Ali on November 15, 2011 - 6:14 pm