This PWM inverter circuit can be build within rupees 180(mosfet version) and rupees 350(triansistor version), price esteemed for only circuit, except transformer and battery, cabinet etc…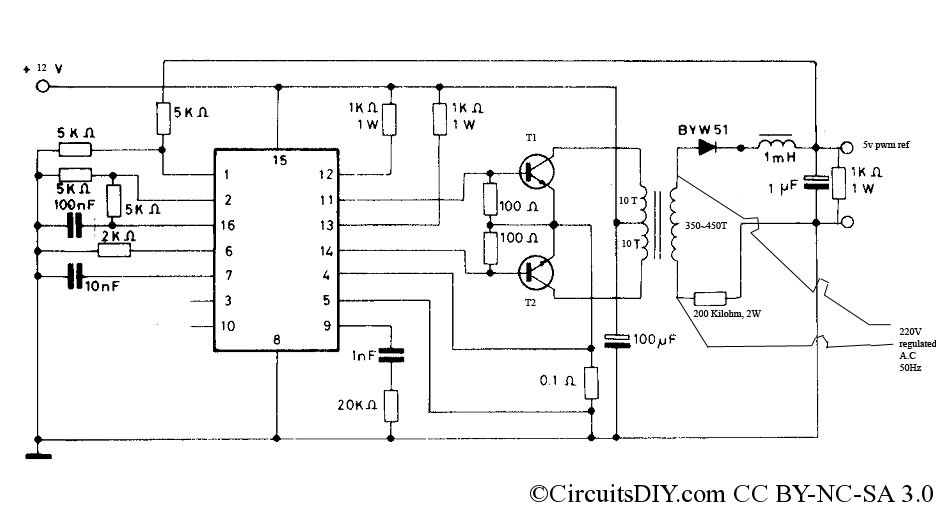 The triansistor power section is as pictrure as the one posted, made by 6 nos of 2N3055 triansistor, both T1 and T2 are to be made identical, and if you want mosfet, then use P55NF06 mosfet, having 3 mosfet parallel, with each one having a resistor of 22 ohm in series to the Gate pin to the T1 or T2 base point.
The transformer is costly, better build it yourself or by any local transformer repair shop by an old 750VA~1KVA stabilizer transformer. The primary wire guage is 13 swg, and secondary is 23 or 22 swg.
The main feature of this inverter is, this is a PWM based circuit, and output voltage stables at any load, same thing that happens to SMPS.
PWM inverter circuit diagram Parts list
I.C  SG3524 x1                                           15/-
total 12 pcs resistor                                     6/-
total 4 pcs capacitor                                     4/-
Diode BWY51(can use IN4007 also) x1   2/-
1mH inductor                                              3/-
——————————————————-————
TOTAL WITHOUT POWER SECTION           30/-

power section
MOSFET: 6pc P55NF06 with heatsink 150/-   +board = 180/- ~200/- (appx 4USD)
Transistor: 12pc 2N3055(good quality costly one) with heatsink  320/- +board= 350/-~370/- (appx 7.5 USD)
Comments on this article before 07-12-2011
sunny on April 2, 2011 - 3:35 pm

hi
can u have picture the circuits . i have 12 0 12 transformer
when i Purchased 3055 amp the quality is very good but after some time pcb is down
i change the circuit pcb .but quality is down

Dhrubajyoti Dey on May 20, 2011 - 3:48 am

Dhrubajyoti Dey on May 21, 2011 - 4:31 am

Dhrubajyoti Dey on May 22, 2011 - 7:54 pm

Dhrubajyoti Dey on May 23, 2011 - 3:43 am

Dhrubajyoti Dey on June 3, 2011 - 4:07 am

Srinivas on June 16, 2011 - 9:28 am

Vinod.a.o on July 15, 2011 - 4:40 am

nishant upadhyaya on July 17, 2011 - 6:13 pm

Imran Najeeb on August 12, 2011 - 7:13 am

Chinmoy Mitra on September 24, 2011 - 7:29 pm

ahmed j on September 30, 2011 - 8:35 pm

patrick on October 2, 2011 - 3:47 am

salman on October 2, 2011 - 7:51 am

rohit on October 2, 2011 - 12:41 pm

patrick on October 2, 2011 - 1:54 pm

Arup on October 4, 2011 - 3:31 pm

salman on October 5, 2011 - 3:18 pm

Alex on October 8, 2011 - 2:09 am

salman on October 11, 2011 - 2:42 pm

Matt on October 18, 2011 - 3:46 am

Matt on October 23, 2011 - 7:22 am

Matt on October 27, 2011 - 2:25 pm

Matt on November 1, 2011 - 12:44 pm

THRASOS on November 8, 2011 - 5:45 pm

Matt on November 11, 2011 - 8:40 pm

sparkie on November 24, 2011 - 10:09 pm