You can easily double your 6 volts supply to 12 volts by this simple voltage booster circuit.
This is based of the theory that inductor holds current and passes in opposite direction. This is a DC to DC converter, and it has a poor efficiency of 60-80%, so we can't use it for large projects, which needs max power. We can use it for low power consuming models. Like 12Volts 3watt model, which require 250mA current, and since we are giving 6 volts as input, we have to spend 650mA current with 80% efficiency. In this circuit we are going to put DC pulse through an inductor and take the boosted current from the inductor when it's off. We are using a general purpose high current MOSFET, P55NF06 here which is mostly used in inverters. And for making the inductor coil, we need to follow the below chart for some expected voltage range
6v to 12v @ 1Amp : 80 turns of 24swg wire in a 0.5mm ferrite core
6v to 12v @ 500mA : 60 turns of 36swg wire in a 0.5mm ferrite core
12v to 18v : 120 turns of 24swg wire in a 0.5mm ferrite core, and so on…
If we are using it for circuit applications, we need to attach the zener diode at output, and if we are going to charge a battery, no need of zener diode.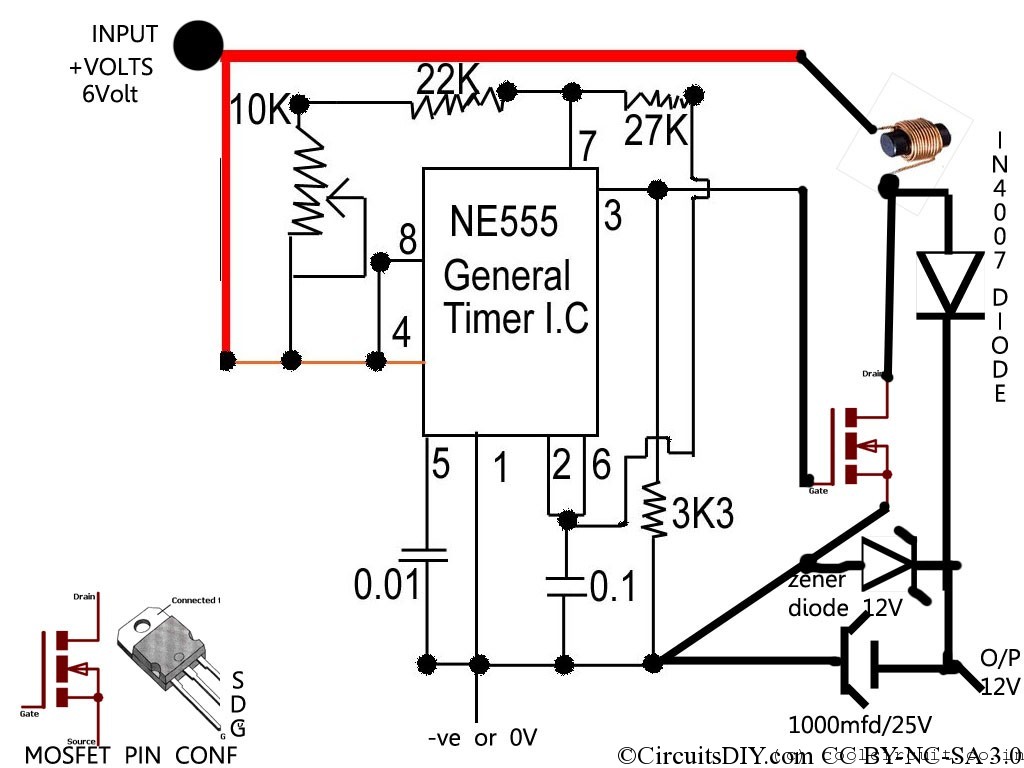 One thing to remember, we can increase and decrease output voltage by altering the value of the zener diode, but increasing much voltage will produce less current and less efficiency, and also we have to attach a larger capacitor there in output.
We are driving this mosfet with high frequency square pulse generated by a 555 timer I.C. High frequency for higher efficiency, as current loss within inductor will be less. This is a voltage converter, not a constant current output converter, so we'll get small ripples at output.
The above circuit diagram is of 6Volt to 12Volt converter. Change zener diode value to change voltage yourself.
Comments on this article before 07-12-2011, here jump to recent comments .
Jay on May 8, 2011 – 3:38 pm

Rubel on June 7, 2011 – 3:44 am

Chinmoy Mitra on October 27, 2011 – 7:28 am

art on November 3, 2011 – 3:08 pm