Here is a very easy DIY FM receiver circuit diagram.
It is easy to build FM receiver circuit as the TA2003 IC used here, comes in easy DIP package.
It's both Am and FM receiver IC, we'll use FM, so FM circuit is only given. All the parts name is given in the diagram, click for a better view.
The L1, L2 and L3 coils are to made by hand. Take a 5mm diameter ferrite core, or other thing, to roll 22SWG copper wire to make those coils. Use a general purpose 500pF gang for tuning.
L1=4T, 22SWG, 5mm dia
L2=3T,22SWG, 5mm dia
L3=3T,22SWG, 5mm dia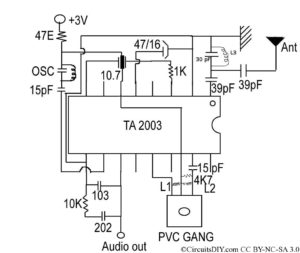 Make the connections of the GANG, coils as short as possible. The audio output should be fed to any amplifier for amplified sound output.
The main advantage of this circuit is that it requires much less current, and operates at 3V.
It could be used to check DIY FM transmitter circuits easily. Leave your comments below, your feedback is important.