We have earlier discussed how to make the simplest FM transmitter, now it's time to make a TV transmitter.
We can broadcast our DVD playbacks, etc to our neighborhood area by use of this circuit. But I tell you a thing, this type of circuit should be used for testing purposes and projects, we aren't legally allowed to broadcast in TV frequency.
This below circuit will broadcast our video/audio to VHF band channel no 9, we can adjust channel number by the help of a trimmer also.
All we need is basic electronics knowledge, some wires, a RF box(av to rf converter, usually used inside cdplayer, dth etc), a 5V supply and a stick Ariel. The following figure is of such a RF box.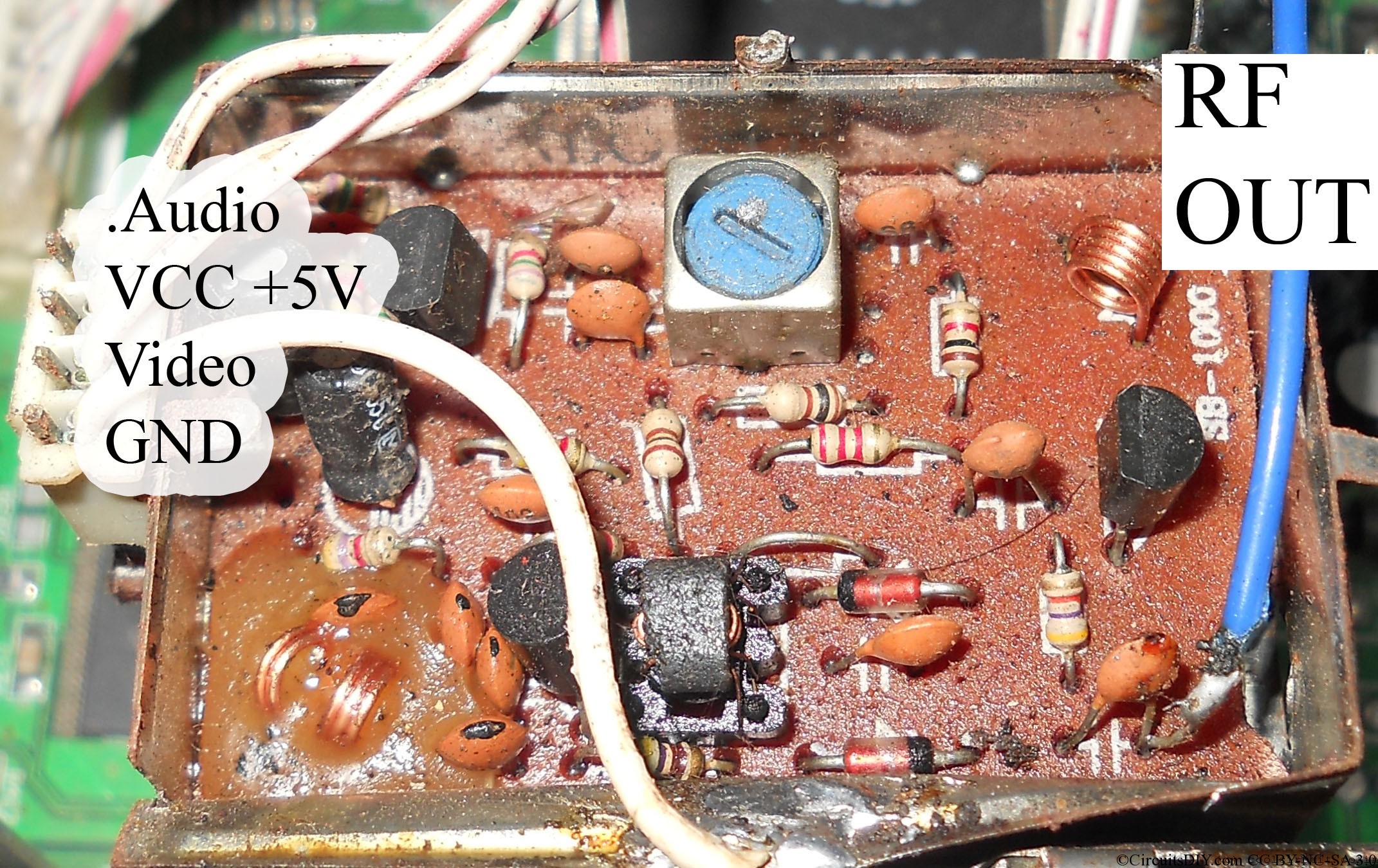 This RF box won't cost you more than 25 rupees, so the total cost of this circuit is around 50 rupees only.
You should connect the Audio(Red/white) cable to the 1st pin, +5Volts supply to the 2nd pin, Video(yellow) to 3rd and com(gnd) to 4th pin.
The RF output tap should be connected to stick aerial (separated from gnd), and kept in height vertically. By default, it will broadcast on Channel 9, but you can adjust the output channel frequency by trimming the IF coil there(small blue).
The range is about 100-150 meters if everything is set up properly.
Read more about fm transmitter circuit here.
Comments on this article before 07-12-2011, here jump to recent comments .
zinaung on May 17, 2011 – 6:42 pm

yogi on June 9, 2011 – 9:34 pm

by kumar on June 10, 2011 – 8:24 am

Pradeep kumar on September 29, 2011 – 7:12 am