Here a simple but efficient CFL inverter circuit, capable of diving a CFL, PL or tube light up to 20 watt. You can use this circuit to power up mobile chargers too, while power consumption not exceeding 20 watt.
This inverter circuit is powered by a 12 volt lead acid battery, minimum capacity of 5 Ah.
This circuit oscillates at much higher frequency than normal AC. So you can't use this inverter to run AC motors, fans or anything dependent on the frequency of the AC current.
CFL inverter circuit diagram and part list
Check the circuit diagram below,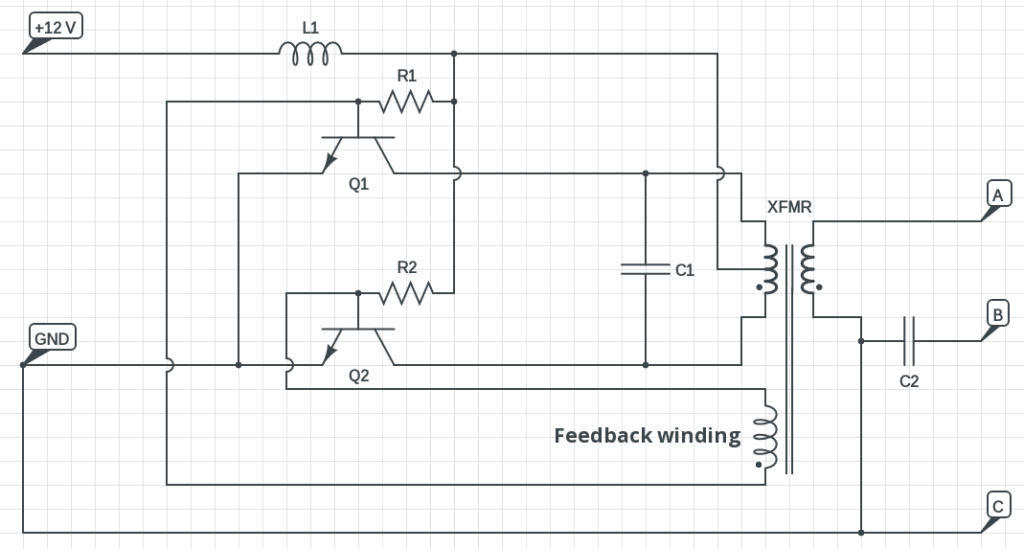 Part list
Q1, Q2  > MJE3055 or 2SD1351 or CTC1351
R1, R2  > 2.2kΩ 1 watt
C1  > 0.01μF 250V plastic film capacitor
C2  > 3.9nF 2000V, film capacitor
L1  > 60 turn of 24swg enamelled copper wire on 22mm x 15mm C type ferrite core
XFMR, see details below
Transformer details
The transformer's primary is made of 10 turns of 24 SWG copper wire, divided into 2 parts, total 20 turns, it's on the first layer.
Secondary is on the second layer, made of around 300 turns 30 SWG copper wire. The feedback winding is made from 6 turns of 30 SWG copper wire, over the secondary coil.
The transformer core is a made of two 24mm x 12mm ferrite E cores, there's around 0.5mm air gap between them.
Here another little different CFL inverter, up to 18 watts of output power and running on 12 volt.
Construction
I've got this CFL inverter circuit from a solar PL lamp driver, it's constructed on a 1.6 mm FR-4 PCB, very sturdy design, pictures below.
Front of the PCB,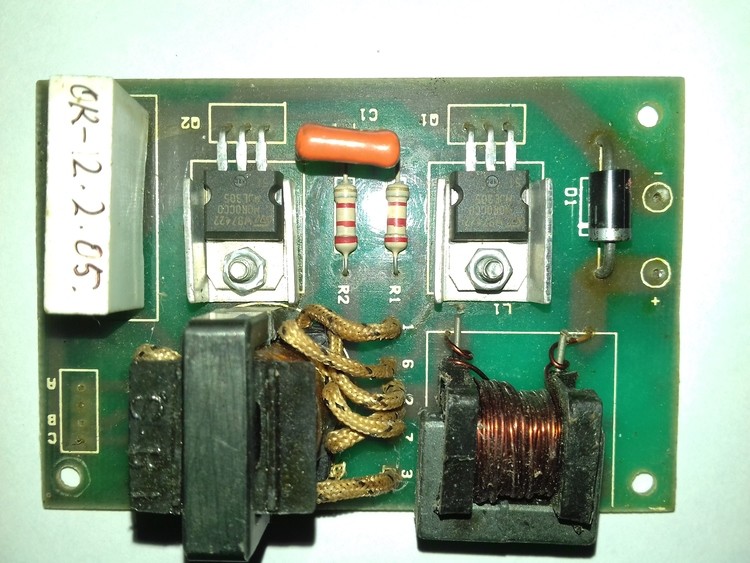 Back side of the PCB,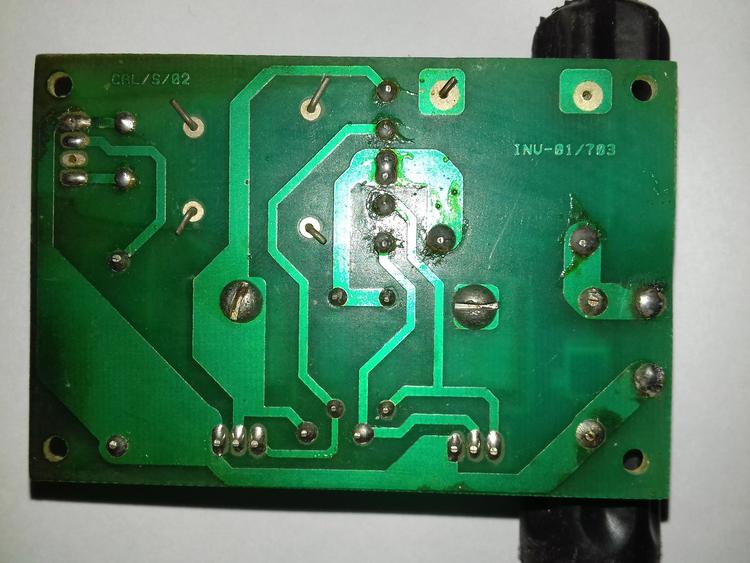 The 1N5408 diode is unnecessary, so you can remove it.
Wiring and setup
You can use this inverter to power a CFL, tube light or PL lamp, up to 20 watt.
When you're planning to power a CFL, connect the A and C points to the CFL's input. While powering a tube light or PL lamp, connect the input to point A and B.
You've to use thick connecting wires from the battery to this CFL inverter circuit, specially for long connections. Because thin connecting wires will cause much more power loss on the DC side.
Working of the CFL inverter
This circuit is basically a high power Royer oscillator. The output is a sine wave, due to the 0.01μF tank capacitor connected to the primary winding.
You can read about the working of the circuit here in details. Even there's a vast research paper on this subject, in case you're interested, link here.