So, if you're looking for the the simplest and cheapest shortwave transmitter circuit, it's here.
This transmitter is very low power and very stable as well, uses a readily available 3 terminal ceramic resonator to set the frequency.
Though this shortwave transmitter circuit can reach barely around 5 meters, but you can be increase the range easily with a simple RF amplifier and a low pass filter stage. Lets get started…
Simplest shortwave transmitter circuit diagram
Lets have a look at the circuit diagram,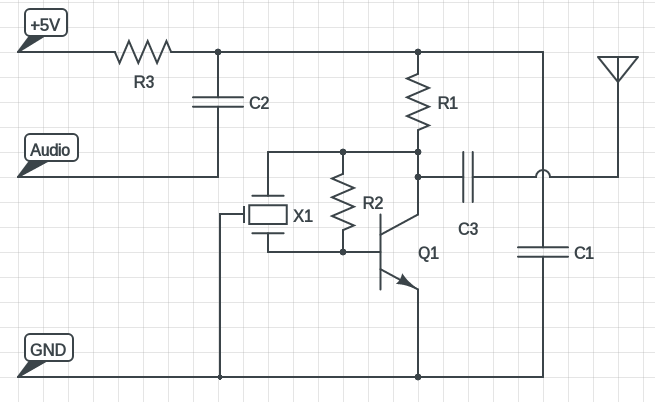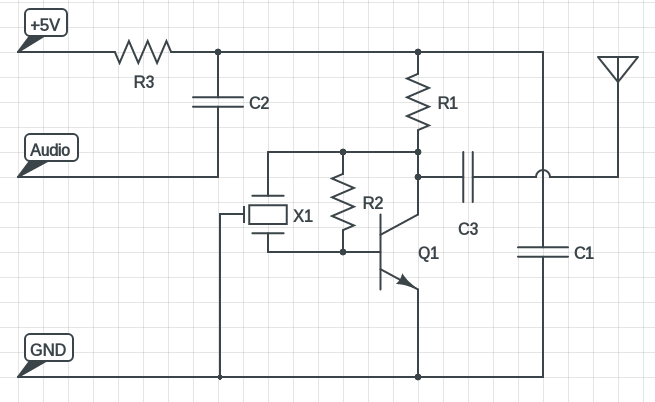 Just one transistor and a 10.7 MHz ceramic resonator with few other passive components !
Part list
Below the part list,
Q1 – BC548 or any quivalent NPN transistor
X1 – 10.7 MHz ceramic resonator, 3 terminal
C1 – 10 nF ceramic disc capacitor (103)
C2 – 100 nF ceramic disc capacitor (104)
C3 – 100 pF ceramic disc capacitor (101)
R1 – 10 kOhm
R2 – 150 kOhm
R3 – 1 kOhm
That's all you need to make this shortwave transmitter circuit . Power up the circuit with a clean 3 V to 5 V DC supply, i.e with a single Li-Ion battery is.
You can also replace the 10.7 MHz ceramic resonator with any other between 2.3 MHz to 26 MHz range.
Construction and testing
It's quite easy to build, but you shouldn't use a breadboard. I've built a prototype on a little piece of strip board.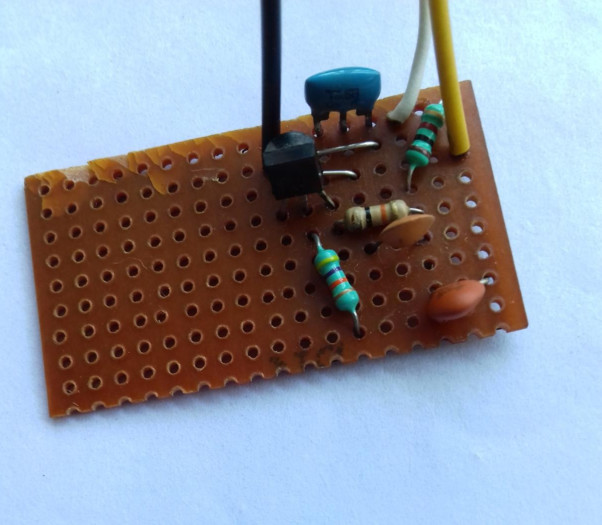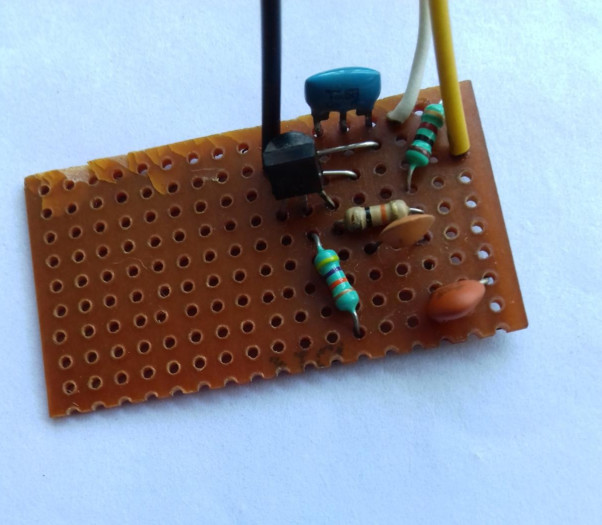 A little about the audio input, you cant just connect a microphone to the audio input. This transmitter circuit needs a amplified signal input, should be powerful enough to modulate the amplitude.
Antenna plays a vital role on the range of this shortwave transmitter, without an antenna it won't go more than one meter. Antenna length is not critical just connect a piece of 1 meter wire.
The frequency can be changed a a little(0.1-0.2 MHz) by adding a capacitor in series with the ceramic resonator.