Description:
This is how a 12 volt 40 watt ready made emergency CFL/TL circuit looks like. This circuit consists of one power transformer, one 2N3055 transistor wit heat sink, two high watt resistors(brown) in series to apply saturation voltage to the transistor base, 0.1uF ceramic capacitor(green) for soft start and frequency maintaining, one small(yellow) 0.01uF capacitor with a IN4007 diode to protect the transistor from reverse feedback voltage from transformer, two 1000uF capacitors(blue), one for charge current filtering, another for holding emergency system off during charging, the three IN4007 diodes below are for charging rectifier section, and the 4?th one is for giving negative voltage(buffered by a 1000uF capacitor) to the base of transistor for switching it off during charging.
Connections:
The two open connections from the transformer(down of the picture) goes to the terminals of CFL, or direct tube light(without any choke) or to CFL lamp<40W. The 12V & 12V connectors (in the right-up and right-down) goes to 12Volt battery -ve & +ve respectively. The inner three connectors in the right goes to charging transformer's secondary(output) of 12-0-12 volts section. Though at 40Watt, the circuit uses about 3.5Amps of current, a very low ampere rated switch can be installed here. The switch will be between the base and emitter terminals of the transistor(the two points in the left except the screw points). Thus, the setup complete.
The kit costs only Rs. 50~55/-  as per current(Oct-2010) market price.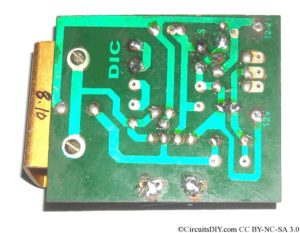 Comments on this article before 07-12-2011,
naveen on December 27, 2010 – 1:41 pm

naveen on December 30, 2010 – 8:59 pm

patrick on October 1, 2011 – 3:05 am

patrick on October 2, 2011 – 2:31 am

patrick on October 2, 2011 – 1:48 pm

Arpan Panja on October 6, 2011 – 8:23 am

Arup on October 7, 2011 – 8:53 am

pavan on October 8, 2011 – 12:29 pm

ANU JIYA on October 13, 2011 – 6:57 pm

Prasun on November 15, 2011 – 5:35 pm

daniel on November 25, 2011 – 12:53 am