MAX16835 is a current regulated high power LED driver. It can take a wide range of input voltage, also supports dimming via a PWM signal.
This IC is designed and sold by Maxim Integrated, specially for rugged applications.
MAX16835 can be used to drive a single LED or a string of multiple LEDs in series, more details below.
Targeted application market
Clearly this LED driver is targeted to where reliability is preferred over design complexity and cost.
Automotive Interior: Map, Courtesy, and Cluster Lighting
Automotive Exterior: Tail Lights
Warning Lights for Emergency Vehicles
Navigation and Marine Indicators
Signage, Gasoline stations
General lighting
Key Features datasheet of MAX16835
+6.5V to +40V Operating Range
Adjustable LED Current (35mA to 350mA)
±3.5% Output Current Accuracy
Integrated Pass Element with Low-Dropout Voltage (0.55V typ)
Output Short-Circuit Protection
+5V Regulated Output with 4mA Source Capability
Thermal Shutdown
Differential LED Current Sense
High-Voltage Enable Pin for Dimming Interface
Low Shutdown Supply Current (35µA typ)
Low 200mV Current-Sense Reference Reduces Power Losses
Wave-Shaped Edges Reduce Radiated EMI During PWM Dimming
Available in Small, Thermally Enhanced, 5mm x 5mm, 16-Pin TQFN Package
-40°C to +125°C Operating Temperature Range
MAX16835 datasheet PDF > You can find the datasheet here.
Reference circuit diagram
Below the circuit diagram of a sample application, courtesy of Maxim Integrated.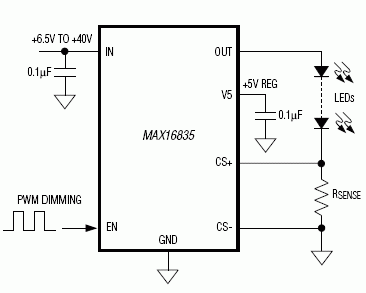 The EN pin is either connected to input voltage IN or it's driven by PWM signal from a micro controller.
5 volt at 4 mA regulated power can be drawn from the V5 pin for some purpose, like for driving a MCU.
The current through LED can be calculated by this formula, 
It's the first reference design circuit published on CircuitsDIY, hope you enjoyed it.
Few pictures and information are taken from Maxim's official website in good faith, without permission. No copyright infringement intended.