LEDs are DC devices, operating from a few volts of direct current. Where power is supplied by a DC battery like mobile phone, or torch, you can easily run LEDs.
But running LEDs by AC requires a driver. Appropriate LED driver is required for the LED to last longer.
While LED itself costs less, say Re.1/pcs the driver circuit is often costlier than the LED itself.
The good news is that you can run LEDs without any complicated driver circuit. A good maths will help you design your driver circuit such that it ensures your LEDs are safe.
Today I'm going to build one LED array that runs off mains i.e. 230V AC. Here, multiple LEDs are connected in series so that the voltage drop across the array equals the supply voltage.
Certainly it is not the right SAFE way to drive a LED array, but it's the simplest out there. Since there are no converters used, the efficiency of this circuit is much higher than other drivers.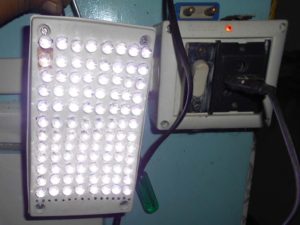 Construction of the 230V LED driver
First I convert the 230V AC to DC by using a bridge rectifier and a capacitor. 230V AC becomes 230x√2=325V DC. A typical white LED runs on ideal 3.6V, but can run from 3V to 4V(max).
Feeding 325V DC into a series of such LEDs will require 90 LEDs (3.6V each). In my prototype I'm using 12×8=96 LEDs in array, so each LED will get 3.38Volts which is a bit less and will cause my LED strip to be less bright. But in other hands, I'm protected from little over-voltage spikes that may happen in mains line.
This is my schematics. I have used a bridge rectifier built by 4x IN4007 diodes, and a 4.7uF/450V capacitor for smoothing the DC wave. Use of the capacitor removes flickers from the output light.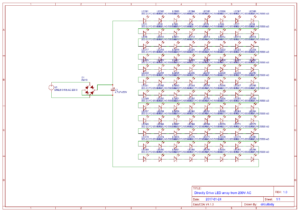 Now it's turn to make the physical circuit. I've used a 4″x6″ PVC switch box as an enclosure. I used a thick needle to make the holes and arrange the LEDs in 8 rows and 12 columns.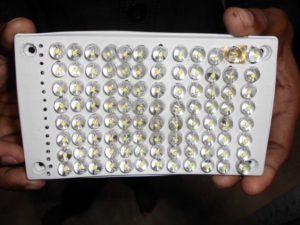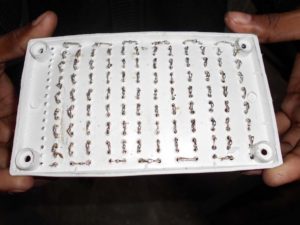 After connecting LEDs in series I test the LEDs by adding the bridge rectifier/capacitor circuit. All LEDs glow up in even brightness and none burned.
The advantage of connecting LED in series is that only one LED will burn in case of burning. From the top, you will be able to see a brown/black dot in middle of the LED (yellowish area). This way replacing that particular LED is easy.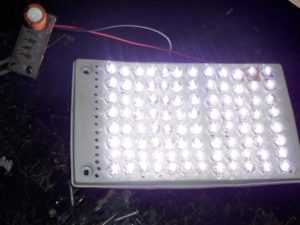 Now I place eveything inside the 4″x6″ PVC board and I add an AC wire. Right now it's been running for 2+ hours and no heating or burning. It's successful.
If you build one like this or get any inspiration to make yours by different way, let me know by dropping a comment below.