There are some pretty signal boosters available in market which can only boost or amplify weak signal. But these products can't bring unavailable towers.
You can buy external antenna for this purpose but this antenna is a cheap replacement of that. You can use a stick aerial for this purpose and I've tested that it's better than that.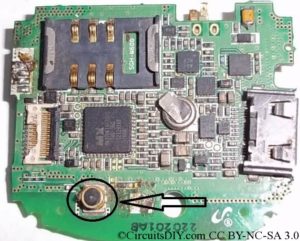 The setup in my house brought international signals from 5KM far tower. You need to locate the external antenna connecting point in your mobile.
In most mobiles, it's below battery battery compartment or in backside of mobile. Connect an aerial antenna with it and be sure it's ground isolated. If the antenna is somehow connected to ground, it will not function properly. place the antenna in outdoor and use a wire to bring the connection to room.
The image showing an mobile board with the connection pin marked.
Note: Provide a cover on antenna as you are placing it outdoor, it may get electrical charge from environment which is harmful for your phone.
Comments on this article before 07-12-2011, here jump to recent comments.
shubhankar dhar on May 28, 2011 - 9:38 pm

Hanesh kumar on June 19, 2011 - 4:02 pm

vidya on July 15, 2011 - 10:12 am

Chama on August 11, 2011 - 1:12 pm

Chama on August 14, 2011 - 5:34 am