This is a simple 3band graphic equalizer for audio amplifiers. There are three controls for three ranges, low frequency,mid frequency,and high; or simply for Bass, Treble and Mid range.
This circuit consists of a mini amplifier made by two BC548 transistors and the input-output differential feedback network is coupled with those controls as input.
Though this unit has own amplifier unit, it doesn't omits the need of preamplifier(if any). Only one channel is shown, if you need to use in stereo, add another clone.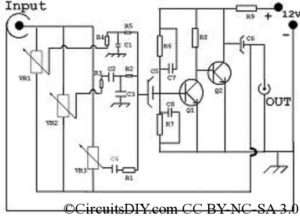 Parts list:
Q1, Q2= BC548, or BC547, or BC549 NPN transistor
VR1,VR2,VR3= 47K linear T/C
R1=33K
R2=33K
R3=22k
R4=22K
R5=33K
R6=1K
R7=100K
R8=4.7K
R9=470
C1,C2,C3=0.047µF, or 472
C4=470pF
C5=1µF
C6=4.7µF
C7=47pF
C8=100pF