This is the circuit demanded by Mr. Anvesh, the winner in our  contest page.
As he is very new to electronics, he made this router ups setup diagram, not an circuit diagram. It's about a circuit that keeps our BSNL Broadband modem on always even in loadshadings so that we can use wifi always.
A 12 V UPS battery is used as backup power source. To charge that, as well as for powering the modem, an 12 Volts power adapter is used here, it should be rating of 1 Ampere to do this job perfectly.
Stilll struggling to setup your ADSL modem ? Here's how to configure a D-Link ADSL modem.
In this router ups circuit, we see adapter is directly connected to battery. As battery is of 12V and gives some 12.5 volts always, we need to step it down to 10V for modem. Find the diagram below.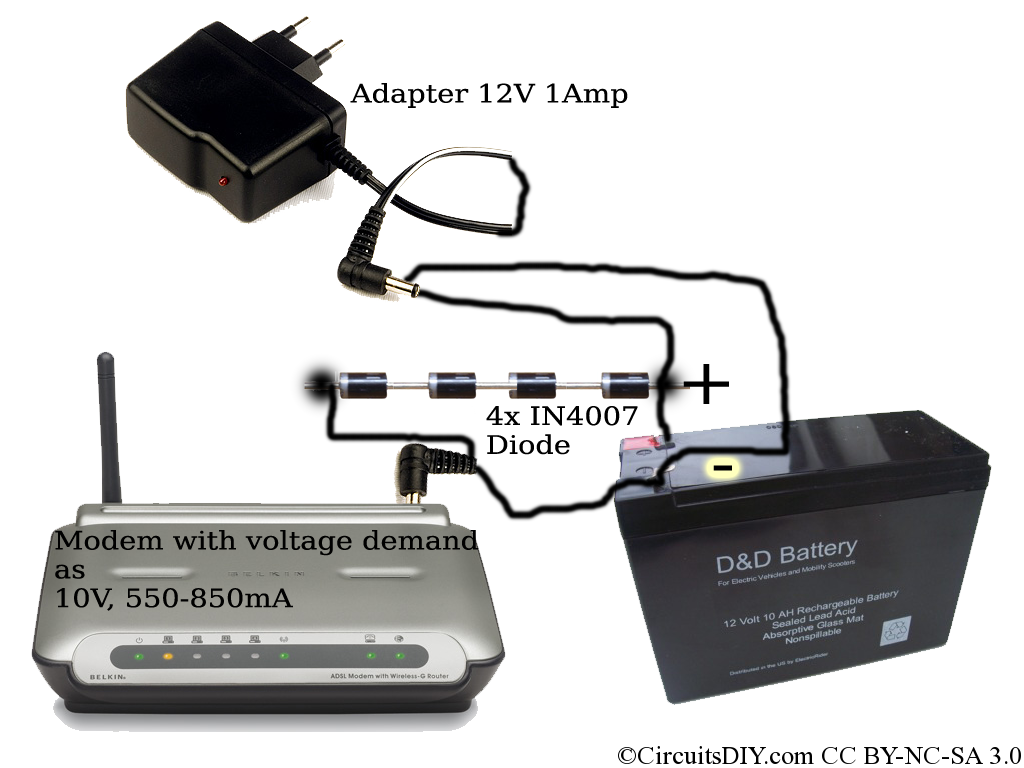 Working of this UPS for modem and router
Simply here IN4007 diodes are used for forward voltage differentiator. IN4007 diodes are easy to find and cheap too. It has maximum forward voltage as 1.1V in 25*C. As BSNL modem requires [email protected], the forward voltage comes to 0.55×1.1=0.605Volts. Together 4 diodes reduces voltage by 2.42volts. So 12.5-2.42=10.08Volts is fed to modem which is within 1% tolerance level, so acceptable.
Many modems/routers have an even wider input voltage range, you can directly hookup the 12v battery without any worry to build this ups for router.
TP-Link MR3220 is such a router, it accepts input voltage from about 7v up to 15v happily.