When LA4440 audio amplifier is used in Bridge mode, it can give output power upto 19Watt. This amplifier is capable to run easily upto 12inch woofers.
The main reasons for using LA4440 is,
Small pop noise at the time of power supply ON/OFF and good starting balance.
Good ripple rejection : 46dB typical.
Built-in protectors.
Thermal protector.
Over voltage and surge voltage protector.
Pin-to-pin short protector.
The simple indicative schematics is given below.

A readymade 2 channel (2 I.C) LA4440 audio amplifier is shown below.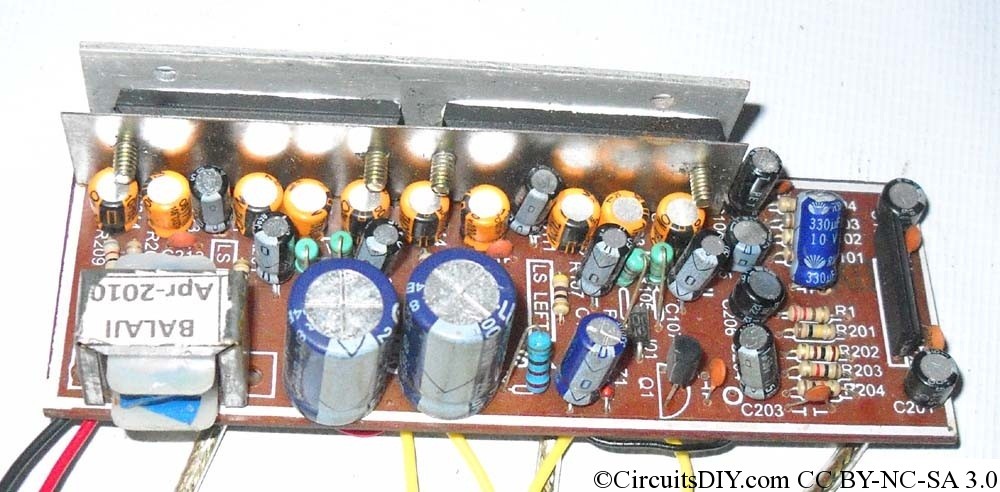 Back side of the same LA4440 amplifier circuit board,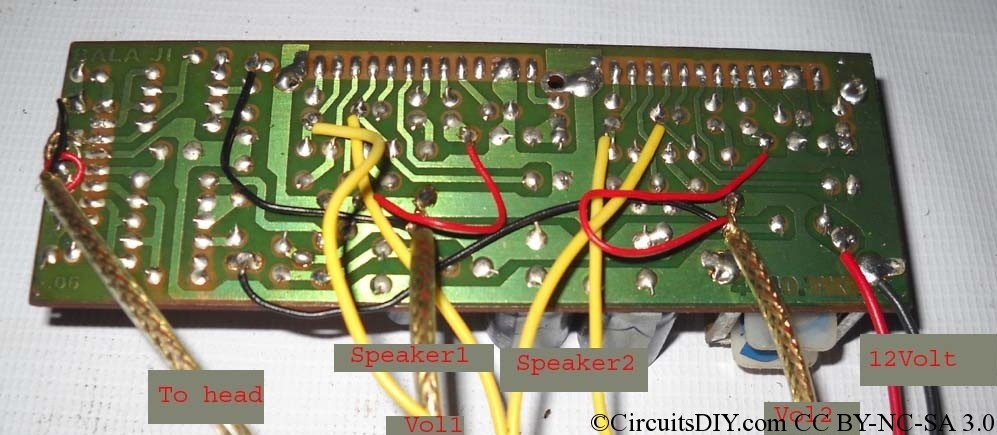 You can modify most readymade amplifier kit to LA4440 bridge amplifier circuit by simply cutting some PCB tracks and adding some jumpers, but that may vary board to board.
The image clearly shows, that a ripple rejection B.E choke transformer is added in series to the +ve supply. This is required in every audio amplifiers as any ripple in DC can cause unwanted noise. The shown circuit has a pre-amplifier too, but that's not our topic, pre-amplifiers will be discussed in other articles.
Comments on this article before 07-12-2011, here Jump to recent comments.
Dipankar Deb on October 25, 2010 – 4:44 pm

kenith on November 18, 2010 – 12:45 pm

sunny on February 12, 2011 – 7:13 pm

ANKIT on March 16, 2011 – 5:37 am

yashwanth on March 19, 2011 – 4:24 pm

sunny on March 25, 2011 – 1:02 pm

sunny on March 26, 2011 – 10:30 am

sunny on March 26, 2011 – 3:27 pm

sunny on March 31, 2011 – 4:00 pm

sunny on March 31, 2011 – 4:01 pm

iqubal on April 11, 2011 – 6:08 pm

Dhrubajyoti Dey on May 23, 2011 – 3:58 am

Mani on June 21, 2011 – 1:31 pm

Sanchit on June 27, 2011 – 2:38 pm

Abi on August 24, 2011 – 6:43 am

albakumar on November 7, 2011 – 12:00 pm

Subrata on November 21, 2011 – 10:00 pm