Just a few days ago the PCBs for VAmeter v3 came in.
VAmeter is a simple board that connects to your existing power supply and shows the volatge, current, etc.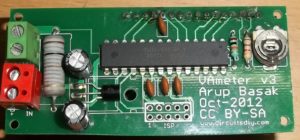 Upon building, the major fault was discovered. There was no connection to the input voltage so the unit is unable to measure the input voltage. It is only able to measure the current.
However, This can be fixed by adding two more flying resistors to the board, but that makes the PCB design a failure.